CALM ANIMAL CARE STAFF
Calm Animal Care staff are compassionate, dedicated, and gentle professionals who care about your pet.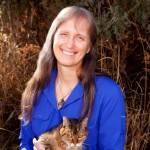 Barbara Calm, DVM
Dr. Calm settled in Montana in 1984 after graduating from Colorado State University College of Veterinary Medicine, opening a tiny clinic in the woods up Truman Creek. Calm Animal Care moved to downtown Kila in 1985. As the practice grew so did her family, and both of her children spent much of their childhood in the clinic. In 1997 Dr. Calm began working toward accreditation in veterinary acupuncture and in veterinary chiropractic, achieving both in 2002. While traditional veterinary medicine remains at the core of the practice, Barbara is happy to offer these complementary options for treating your pets, receiving referrals from other veterinarians all over Montana. When away from the practice, Barbara's greatest joy is playing music, and you can follow her bands on our Music and Community page. In 2019 she became a grandma to little Nora, and when video calls aren't enough, she visits her as often as she can in her home in Portland, Oregon.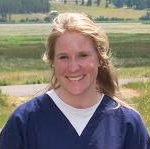 Karen Hartle, DVM
Dr. Hartle grew up in Great Falls, Montana, and received her DVM degree at Washington State University in 1997. Following graduation she practiced in Great Falls and then in Columbia Falls, finally joining Calm Animal Care in 2004, where she's here to stay.  Her primary veterinary interests are surgery, behavioral medicine, birds, and exotic species, and she is now working toward certification with the Canine Rehabilitation Institute, providing both acupuncture and rehabilitation therapy for pets.  Karen puts so much heart into the care that she provides her patients. She is also a devoted mom, keeping up with the activities of four busy children including a set of twins, and all of their pets including cats, rabbits and a little chiweenie dog.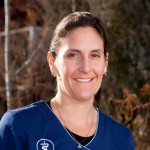 Meg Gordon, DVM
Dr. Meg grew up in Indiana, and launched into a career as a geochemist studying climate change.  Her field work was done in Antarctica, where she met her husband and decided she'd like a lifestyle that was a bit more stable.  Veterinary medicine was a good fit, and she graduated from Michigan State University in 2009.  After practicing in Washington State for four years, she made her home in the Flathead Valley, and joined our practice in 2015.  She loves the outdoors, sailing, tinkering in flower gardens, and learning about the world at large. With a special interest in shelter animal medicine, Meg has been the Flathead County Animal Shelter veterinarian since she came to this valley.  In the past few years she has added two new orthopedic procedures for anterior cruciate ligament repair to her repertoire.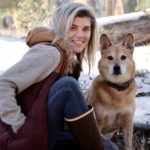 Rachel Kohanov, DVM (with Huey Lewis)
We are so happy to welcome Dr. Rachel! Our newest veterinarian grew up in Michigan, rescuing any stray or injured animal she could find.  That led her to Purdue University, and a degree in veterinary medicine in 2018.  She made her home in the Flathead Valley soon after that, first practicing in Columbia Falls, and then joining Calm Animal Care in March 2020.  Dr. Rachel's interests include animal behavior, internal medicine, and client communication and education.  She fits right in with our team, with her love of animals and compassion for their families.  Rachel also has a huge love of the outdoors.  In her spare time, she'll be found snowboarding on Big Mountain, trail running, or scrambling up peaks in Glacier Park.  She shares her home with Huey Lewis (a Shiba Inu), and her cats, Margo and Ruth.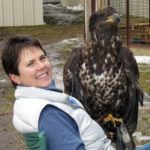 Kari Gabriel (with Hana)
Practice Manager
Kari Gabriel joined the Calm Animal Care team in March 2019, after a long career working in public relations, marketing and in higher education.  Her love of working with animals began as a little girl who brought home all manner of birds, reptiles and rodents.  She began her work as a raptor rehabilitator at the Alaska Raptor Rehabilitation Center in 1991.  In 2015, with her own federal permits to do raptor education programming, she founded "Montana Bird Lady," a raptor education and conservation organization using live raptors to provide education to schools and the public. She lives in Kalispell with her husband, Grif, their (not so "mini") Aussie, Stout; rescue Wheaton Terrier Maggie and her raptor teaching team.  She is also the lucky servant of "Queen Eileen," a severely injured kitty who found her way into all of our hearts during her recovery.  Kari is thrilled to be a part of the Calm Animal Care team!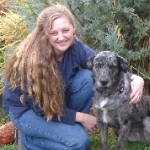 Wendy Haagerup (with Madi)
Lead Veterinary Technician
Wendy came to work at Calm Animal Care in 2004, with a keen interest in the details of every aspect of the care that patients receive here, from routine examination visits to complicated surgeries, recovery and followup. She is thorough and skilled and holds herself and everyone she works with to a high standard of care, and along with Dr Hartle is working toward certification in Canine Rehabilitation Therapy. Wendy leads our technician team, organizing training and protocols, and melding new ideas with the clinic's culture and standards.  Her family includes two sons who have grown up helping at the clinic, a husband who kindly pitches in with mechanical expertise, and a menagerie of dogs, cats, rabbits, chickens and horses. When not at work, Wendy's forward view is often framed by the ears of a horse.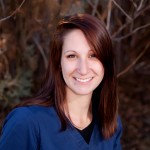 Nikki Arnold
Veterinary Technician
Nikki was an integral part of the Calm Animal Care team for over 5 years, and left us when she moved away in 2017.  She's back in action, and we are so happy!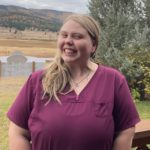 Kayla Smith
Veterinary Assistant
Kayla is the cheeriest person on the planet, and her great attitude and helpful nature brightens everyone's day.  Kayla joined us in the summer of 2021, and her help is so appreciated.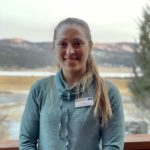 Andrea Weathersbee
Veterinary Technician
Andrea joined us in the midst of the pandemic, in summer 2020, when everyone realized just how important animals were in their lives and we all became much, much busier taking care of them.  Andrea's family have been long time friends and clients, and we knew that she would be a good fit.   She has blossomed into becoming a talented and reliable technician.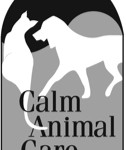 Stephanie Woodring
Veterinary Assistant
Steph is a Flathead Valley native who joined us in March, 2021 to do everything from handling animals to keeping the firebox filled.  She is such a hard worker, and an insatiable learner, that she's quickly becoming skilled at much more than she bargained for.  We rely on her more every day!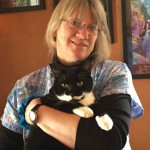 Allison Powell
Receptionist
Allison joined us in Fall of 2014, taking on the front desk and all that entails.  Her calm voice is often the first one you'll hear when contacting or visiting the clinic. She was born and raised in the Flathead Valley, and her grandparents were homesteaders in Glacier National Park.  Allison has four children and an energetic grandson, all herded by heelers, a Corgi and a couple of cats, and describes her home as a "house of fur." Her newest fur child is Wren, a delight who has grown up before our eyes in the clinic. Allison's creative spark is fueled by making art out of anything from food to yarn to glass.  Her nurturing spirit is evidenced by the care that she takes of our staff and clients. She loves working with the Calm Animal Care team and looks forward to coming to work each day!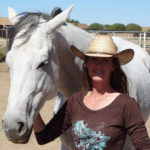 Becky Van Gundy
Assistant Receptionist
Becky and her family have been bringing their beloved cats, dogs, rabbits and even chickens to our practice for years.  At one point she realized we could use some help in the office and joined Allison at the front desk in 2019.   Becky has experience as a C.O.O. of a medical practice and is active in many athletic sports.  She's traveled the world by air, land and sailboat, landing in Montana in 2015 with her husband and son. Becky is a huge animal lover, and volunteers at the animal shelter. She brings a generous, energetic spirit to her work.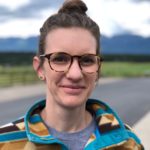 Leslie Haug
Certified Veterinary Technician
Leslie graduated with an Associate's degree in Veterinary Technology from the Bel-Rea Institute in 2006.  She's our special Animal Shelter Tech, working with Dr. Meg there since 2013 in all the veterinary work that the shelter does, assisting in anesthesia, surgeries and animal care.  Leslie is an advocate for shelter animals and is enthusiastic about giving them a voice.  She also loves to paddleboard and paint.  She and her husband Joe live with their pets Lolly, the Pug and Fannie, the French Bulldog.  They are passionate about their youth ministry work in their church.