CALM ANIMAL CARE STAFF
Calm Animal Care staff are compassionate, dedicated, and gentle professionals who care about your pet.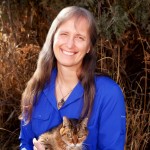 Barbara Calm, DVM
Dr. Calm settled in Montana in 1984 after graduating from Colorado State University College of Veterinary Medicine, opening a tiny clinic in the woods up Truman Creek. Calm Animal Care moved to downtown Kila in 1985. As the practice grew so did her family, and both of her sons spent much of their childhood in the clinic. In 1997 Dr. Calm began exploring alternatives to traditional veterinary medicine, earning accreditation in veterinary acupuncture and in veterinary chiropractic. While maintaining her diagnostic and surgical skills, Barbara now focuses mainly on the complementary options for treating your pets, receiving referrals from other veterinarians all over Montana. When not practicing medicine, Barbara's greatest joy is playing music, and you can follow her bands on our Music and Community page.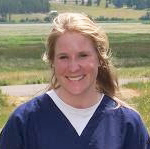 Karen Hartle, DVM
Dr. Hartle grew up in Great Falls, Montana, and received her DVM degree at Washington State University in 1997. Following graduation she practiced in Great Falls and then in Columbia Falls, finally joining Calm Animal Care in 2004 where her primary veterinary interests are surgery, behavioral medicine, birds, and exotic species. Karen is also a devoted mom, keeping up with the activities of four busy children including a set of twins, and all of their pets including cats, rabbits and a dog.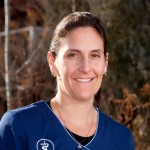 Meg gordon, DVM
Dr. Meg grew up in Indiana, and launched into a career as a geochemist studying climate change.  Her field work was done in Antarctica, where she met her husband and decided she'd like a lifestyle that was a bit more stable.  Veterinary medicine was a good fit, and she graduated from Michigan State University in 2009.  Meg practiced in Washington State for four years, and made her home in the Flathead valley in 2013.  She loves the outdoors, sailing, tinkering in flower gardens, and learning about the world at large. With a special interest in shelter animal medicine, Meg has been the Flathead County Animal Shelter veterinarian since she came to this valley.  We are so glad that she brought her humor and enthusiasm with her when she joined our practice in July 2015.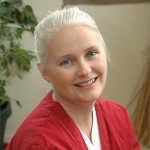 Belinda Jones
Office Manager
Belinda came to work for Dr. Calm in 1987, helping out with care of her children in the clinic. The two have been working side by side ever since. Since those early days, Belinda has been instrumental in the growth of the practice, involved in every aspect from surgical assistance to human resources and public relations. Now she is the practice manager, and her warmth and professionalism keeps Calm Animal Care running smoothly. An alumnus of Kila School, Belinda has raised her family in Kila. Dogs, cats and peacocks are the favored pets of the Jones household.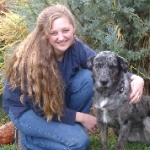 Wendy Haagerup
Veterinary Technician
(with Madi)
Wendy came to work at Calm Animal Care in 2004, with a keen interest in the details of every aspect of the care that patients receive here, from routine examination visits to complicated surgeries, recovery and followup. She is thorough and skilled and holds herself and everyone she works with to a high standard of care. Wendy's family includes two sons who have grown up helping at the clinic, a husband who pitches in with mechanical expertise, and a menagerie of dogs, cats, rabbits, chickens and horses.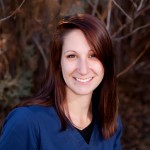 Nikki Winslow
Veterinary Technician
Nikki started at Calm Animal Care in 2012, and is really happy to be here.  Her enthusiasm for learning, and her willingness to take on any new task provided the basis for her training, and she has become a skilled and essential part of our team.  She was raised in Libby, Montana and moved to the Flathead Valley in 2011. Nikki and her husband have a daughter and son, along with a gecko named Skittles and a fish named Breeze, and most recently a black Labrador named Jezreel. The Winslow's are outdoor enthusiasts, where they enjoy camping and hunting and spending time together as a family.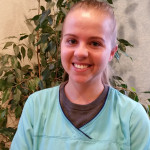 Christelle Greskowiak
Veterinary Assistant
Christelle is the newest member of our staff, and came to us in 2016 from South Africa via Australia, having won the heart of her young husband who grew up just down the road. The happy couple recently adopted a gorgeous Aussie mix named Halsey, cutest dog ever.  Christelle is full of enthusiasm and compassion for people and their pets, and is well on her way to learning the skills she needs to take care of them.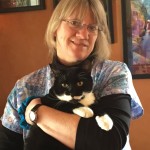 Allison Powell
Reception
(with Dr. Seuss)
Allison joined us in Fall of 2014, taking on the front desk and all that entails.  She was born and raised in the Flathead Valley, and her grandparents were homesteaders in Glacier National Park.  Allison has four children and a ten year old grandson, all herded by heelers, a Corgi and a couple of cats, and describes her home as a "house of fur."  Her creative spark is fueled by making art out of anything from food to yarn to glass.  She loves working with the Calm Animal Care team and looks forward to coming to work each day!